Black Fungus In Nepal: It is a rare infection disease which is spreading in large number in India. It came across to Nepal as well. As we can see Nepal and Indian Border is open where visiting people across between the countries is normal. The Black Fungus is seen in Birgunj, Nepal. As Birgunj is a border city to India, Black Fungus entered In Nepal as well. If sooner action is not be taken to control the spread of Black Fungus then the worse condition yet to come gets out of control.
In Birgunj alone, 8 people have confirmed and infected till now with Black Fungus where 3 people have died already in Narayani Hospital.
Niraj Singh Statement About Black Fungus In Nepal
Narayani Hospital Dialysis Chief Doctor Niraj Singh: With his said, "Black Fungus treatment is not possible in Nepal." The rest five people who were infected with Black Fungus are sent to India for further treatment. Niraj Singh has given the information. The disease is now spreading to other cities in the country as well.
What Is Black Fungus?
Black Fungus is a rare infection disease which occurrence is due to Fungal Spores. This is found in our land soil, air, and organic materials. It affects humans when they take breathe/Inhale from the air. When we Inhale, The mold gets inside our body and gets surround towards our Nose and eye as well. It then causes the nose to gets black color around. After that, it moves and spread towards our brain which may lead to death sooner.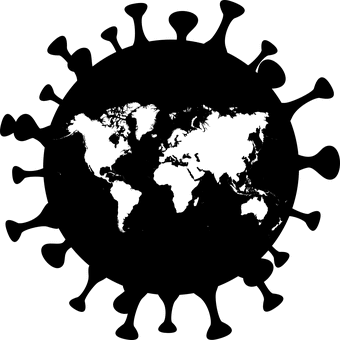 How Black Fungus Is Result Of Covid-19?
We can see from last 2 years to till now, The global is suffering ongoing covid pandemic which is getting out of control. As time passes, The mutation is also occurring in Covid-19 which is getting more fatal than previous. After the second wave of the Covid-19 Outbreak, The third wave already came across in India at maximum Number which is also spreading in its neighboring country Nepal. The reason for Black Fungus due to Covid-19 from an expert point of view is:
Due to combination factors where factors include contaminated materials equipment like Oxygen cylinders.
With the use of steroids for the treatment of covid patients.
Black Fungus: How does it spread?
The Black Fungus disease is not contagious. Contagious means, It doesn't get spreads where bodies get contact with others like body contact between humans or animals. It only gets spread due to fungal spores. It means, it gets spread from the air or environment through Fungal Spores. For this precaution to be safe, It is almost impossible to get rid of certain conditions.
Black Fungus Type: About Mucormycosis
Mucormycosis is the type that belongs under the Black Fungus category. Mucormycosis is also commonly known for Black Fungus only. It means whenever the case occurs regarding Mucormycosis, Then you must aware that the person is a victim of Black Fungus. The infection-causing is the result through mucormycetes which are the groups of fungi species. It is commonly found in the environment. But highly found in Soil.
What About White Fungus: Is it dangerous?
White Fungus: Well talking about White Fungus, It is a normal disease that is curable. The person who gets a victim of White Fungus is at large Number so far. It is not a deadly type of disease. It is also not a rare type of infection. As it is available in large number which is curable with medicines that are commonly available. It doesn't Need an expensive inject. Many people get cure easily who are victims of White Fungus. It can not spread from person to person.
Symptoms Of Black Fungus
The Following are the symptoms of Black Fungus:
In the nose and eye area, the occurrence of blackening or discoloration.
Chest pain.
Shortness of Breath (Difficulty In Breathing)
Coughing Blood
Weak Immune System
Fever, Headache, and Toothache
Abdominal pain, Nausea, and Vomiting
Must Watch
How It is transmitted:
Through Air: The fungus spores get inside the nose and then reach the lungs.
Food: Unhygienic food contains a decaying fungus that goes inside the stomach and infects inside.
Wound: A layer around wounds contains fungus as well.
Note: Main source that cause infection is through Air. If your immune system is week, The disease triage within a week.
Medicine For Treatment
Note: When the Black Fungus spread seriously in the body then Surgery is only the option. The fungus in form of tissue affects the specific part and damages the tissue. It especially occurs in the Face area.
Precaution For Black Fungus
Use Mask
Eat healthy hygienic and fresh food
Avoid often use of steroids, anti-biotics, zinc, etc medicine
Make your environment clean
Exercise daily
Regular Bath and meditation
Important: Have a positive mindset and make your immune system strong
Lockdown extended In Birgunj To Jestha 30, 2077
On 19th Jestha 2077 In Birgunj, the District Administration Of Parsa Had extended Lockdown again to Jestha 30, 2077. The injunction issued in 16th Baisakh 2077 has extended again counting the amendment of the decision for the sixth time. District Covid 19 Crisis Management Center (DCCMC) meeting held on Wednesday and decides to extend the injunction till 12-noon 30th Jestha 2077.
Pitamber Ghimire Statement
Pitamber Ghimire is Chief District Officer of the District Administration Office, Parsa, and Coordinator of DCCMC. He said that the injunction should extend as it will result in worse conditions where controlling the spread of the disease gets out of control. And Eventually, The people get suffer a lot. Though the number of infected people is declining now. But If we are careless thinking regarding better outcome then it may lead to worse condition overcome after a few intervals of time gap. So, such a situation should analyze as it cannot assume that it will not increase when it gets open again.
A meeting of the District Covid 19 Crisis Management Center (DCCMC) in the presence of post holders at the District Administration Office extends the lockdown till 30th Jestha 2077. They have also decided to support the expenditure of Rs. 656,575 by the end of the month.
Cheapest Wi-Fi In Nepal: Click Me!!
Covid Condition In Nepal: Click Me!!