Today, in this post you will learn what is copywriting? Along with this, if you want to be a copywriter then what qualities and qualifications you should have with you? Along with this, where you can find jobs related to copywriting? We will clear all your doubts in this post one by one.
As you know freelancing is very famous nowadays. People from all over the world are connected with freelancing because the digitalization wave is running all over the world. Now, people have started focusing on online earning along with offline earning. In this way, copywriting also comes under freelancing with the help of it, people are earning thousands of dollars. We thought that you should also know about copywriting and start making money with it.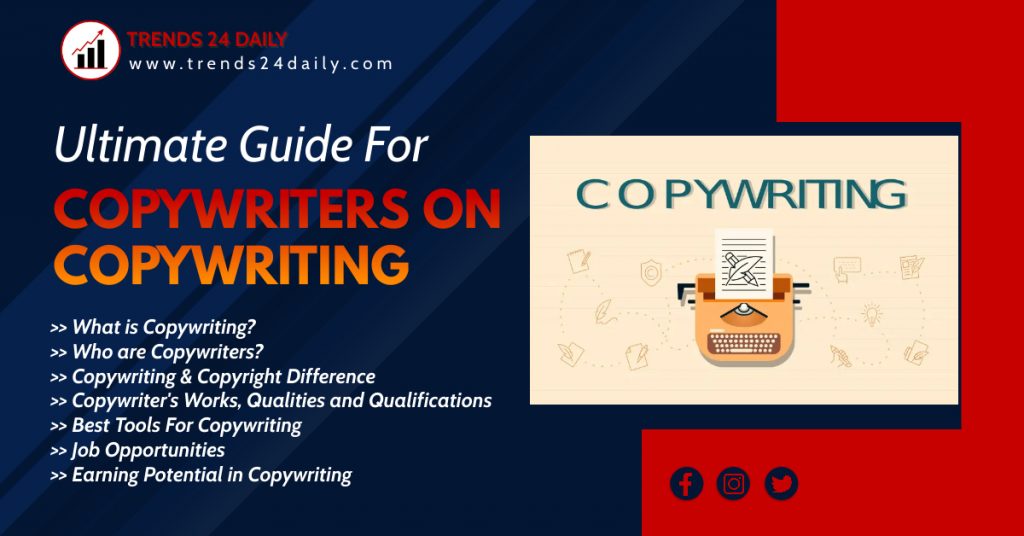 What is Copywriting?
Copywriting simply means selling through written words. Advertisements which you see in the newspaper, scrolling through Facebook, and on websites are examples of Copywriting. And these advertisements are written by a Copywriter. Now, copywriting is not a new thing It exist since ancient times. Unbelievable Right? After that, as time changed, copywriting changed as well. Now, maybe you're thinking copywriting is good but How can this thing make me money?
So let me give you an example, Let's say there is a company, Who sells its products online and their conversion rate is 1% It means that if 100 people come to their website then out of 100 people 1 will buy their product. And their yearly turnover is 1 million dollars. Now, as a copywriter, What you've done is you changed their website a bit You changed the headline, Tweak product's features and benefits. Basically, you've written about the product in an influential way. Now, because of that company's conversion rate which was 1% before Let's say it is now 2%. It means out of every 100 people 1 person used to buy there product but now out of every 100 people, 2 are buying their product Company's turnover has doubled from 1 million to 2 million just because of you.
Now just think, How much money companies will pay someone who has doubled their turnover. That's why, if you master this skill You'll never need to worry about money in your life Now, How to learn copywriting?
Who are Copywriters?
Content that a copywriter writes is known as Copy or Sales Copy. The main aim of the copywriter is to attract the readers and keep them engaged with their writing abilities. Copywriting helps to convince the customers to buy any products that's why copywriting is widely for advertising and marketing purposes. Copywriter prepares text script for the promotion of products and services of any business. The articles that we post on the website also come under the category of copywriting. Companies hire copywriters so that their website's content and products or service information can be written in an attractive way. Marketers use copywriting to promote products and to increase their product sales.
What is difference between Copywriting and Copyright?
Many people think that copywriting and copyright have some relation with each other but there is nothing like that. Copywriting is all about writing attractive and engaging headlines or articles.
Whereas, Copyright is intellectual property that helps to protect onces right to art, invention, or ideas. So that if someone uses his/her property without permission then they get struck by the owner of that property.
Works that comes under Copywriter
A copywriter can do different types of work. There are so many types of work in copywriting category. The information regarding some of the works that copywriters can do is given below.
Writing text based material
Researching the topic and think deeply on it
Work of proof reading
Work of editing
Copywriter can taking interviews
Job of managing the project
Plan as well as execution of a marketing campaign
Copywriter can evaluate the impact of all the work
Along with these works, some other works can also come under the copywriter. Now, you can imagine how many qualities and qualifications you must have in order to do this copywriting work.
Copywriter Quality
To be a copywriter, you must have a lot of quality and at the same time, you must have abilities to execute. So, here we have explained about the top qualities out of many, which copywriters must have. The qualities are explained below in detail.
This is the most important quality that you must have to be a good copywriter. If you have written a nice copy then everyone will love to read it. Your written copies decide whether your readers or visitors will convert into your customers or not. In this type of profession, there is no place for Typos mistakes, Grammatical Mistakes, etc.
However, you can give your written copy to a proofreader for proofreading and for finding the mistakes in your written copy. Apart from this, you can read your content in a louder voice. While doing this, if there were any mistakes while writing the content, then you can easily spot them. However, for doing this, you can use the Grammarly tool.
Search Engine Optimization (SEO) Knowledge
If you want to do copywriting then you should know about SEO. It mostly comes into use when you write any blog post or article for any company. If you write any content without keeping SEO in your mind then visitors will not land on your product's page.
With the help of SEO, you can optimize your content for any specific keyword which helps search engines to display yours into SERPs. It doesn't matter how much good content you have written, if your visitors aren't able to find your content then it's totally useless.
Knowledge to Work on Multiple CMS
In Copywriting field, you have to work on your client's CMS (Content Management System) like WordPress, Joomla, Medium, etc. That's why you should explore all the information regarding these platforms especially information related to writing content. In the end, you have to work in the writing tab of CMS.
To understand this, you don't have to work hard. However, you should have knowledge of SEO before knowing about it. If you know a little bit about HTML then it will help you in long term. You don't have to be the master or expert of these all things. You have to know the basics of these things.
Qualification Requirements for Copywriting
If you want to be a copywriter and want to do copywriting then you should have a bachelor's degree related to writing subject. Along with this, you should have your own portfolio with yourself. Portfolio gets more priority than the qualifications and training in this copywriting field.
That's why you should make your portfolio by yourself or you can make it prepared through others. Your portfolio should have projects or ads related to copywriting so that the hirer should know your creativity and ability.
Where can Copywriters get Jobs of Copywriting?
So far, we talk about copywriting, copywriters, and the requirements to become a copywriter. Now it's important for you to know which type of companies gives you copywriting jobs and where you can earn money with the help of copywriting. After all, we are learning about copywriting to earn money with the help of it.
Most of the news companies, products, and services-related companies do hire copywriters. News companies hire copywriters so that they can write attractive content and news articles for their companies. And products and services related companies hire copywriters so that copywriters help them to boost their sales through their copywriting skills.
Apart from these companies, you can make money with the help of copywriting by doing freelancing with copywriting. There are so many freelancing platforms are present on the internet. We have listed some of the most popular freelancing platforms.
You can make your profile on these freelancing platforms. You can also do advertisements to get the copywriting work according to your ability.
Best Copywriting Tools for Copywriters
To help you to get started with your copywriting career, we have listed some of the useful tools for copywriting which you can use to save your time. The tool's name is given below with a short description of the tool.
Writesonic: Writesonic is an AI-based tool that helps to write copies for your clients. It helps you to write Website copy, Digital Ads copy, Article or Blog Copy, eCommerce copy, etc. It has copywriting formulae for copywriters and it also has other tools. You can check this tool by taking its free trial which offers you 10 credits to write copies for you. You can visit it's website and know about Writesonic by clicking here.
Grammarly: When you will write content for your clients then there are many possibilities that you might make some mistakes while writing content. So, the Grammarly tool helps you to show those mistakes and also suggests its correct solution. A copywriter should use this tool while writing content. You can use it for free but it has some limitations. You can upgrade to the paid if you want to utilize more features of it. Click here to visit it's website.
Mangools: Mangools is an SEO tool that helps you to write SEO-friendly content for your clients. You can write SEO-friendly content that can generate sales ranking on the search engines which helps to impress your clients. With the help of it, you can target the correct audience for a product or service, about which you will be writing copies. It provides 10 days free trial to its new customer. You can take its free trial to judge this tool. Click here to visit Mangools website.
We recommend you use these tools to save time and maximize your earnings. You should at least take its trial to know about the tools.
How much Money you can Make with Copywriting?
The person who does copywriting business or job can easily make around $200 to $500 per month at the beginning of their copywriting journey. It can be in thousands of dollars which depends upon your work. If you do this by sitting at your home then you can make around $500.
Nowadays, the copywriting field has very brighter opportunities. Even many professionals are making thousands of dollars by just sitting at their homes with the help of this copywriting business. If you also want to make your career in the field of copywriting then we are hoping that this article might have helped you a lot to get started with copywriting.
Conclusion
So far, we have discussed every important topic related to copywriting that beginners should know to start his/her career in copywriting. We discuss what is copywriting, the difference between copywriting and copyright, who are copywriters, and what are the qualities and qualifications that a copywriter should have. We also discussed where copywriters can get jobs and how much money a copywriter can earn and some important tools to get started with copywriting. With all these, we are hoping that you might not have any questions in your mind regarding copywriting.
If you still have any questions in your mind then feel free to comment down your questions. We will surely try our best to answer your question answer.
Also Read: